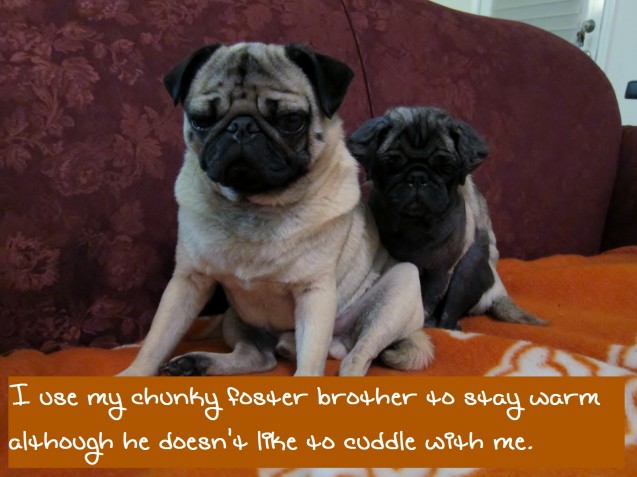 "I use my chunky foster brother to stay warm although he doesn't like to cuddle with me."
We have been fostering Cricket, the smaller pug, for about a month. This 3-year old lady was surrendered to Pug Rescue of Austin in Austin, TX. She came in with fur loss and skin problems. The vet has put on her on a special diet since we believe her issues were caused by food allergies. Although she is still missing some fur and has hyperpigmentation, Cricket has drastically improved. She was in this condition for about a year and a half before her previous owners gave her up, so it'll probably take just as much time to completely recover.
Cricket is also blind from cataracts and has bilateral luxating patellas (basically she looks a little bowl-legged). Despite these things, she has no problem getting around. She is a sweet, easygoing girl and loves people, children and other dogs. Her interests are playing with squeaky toys, being close to her foster brother, cuddling, napping and playing in the backyard.
If you're interested in adopting, click here.