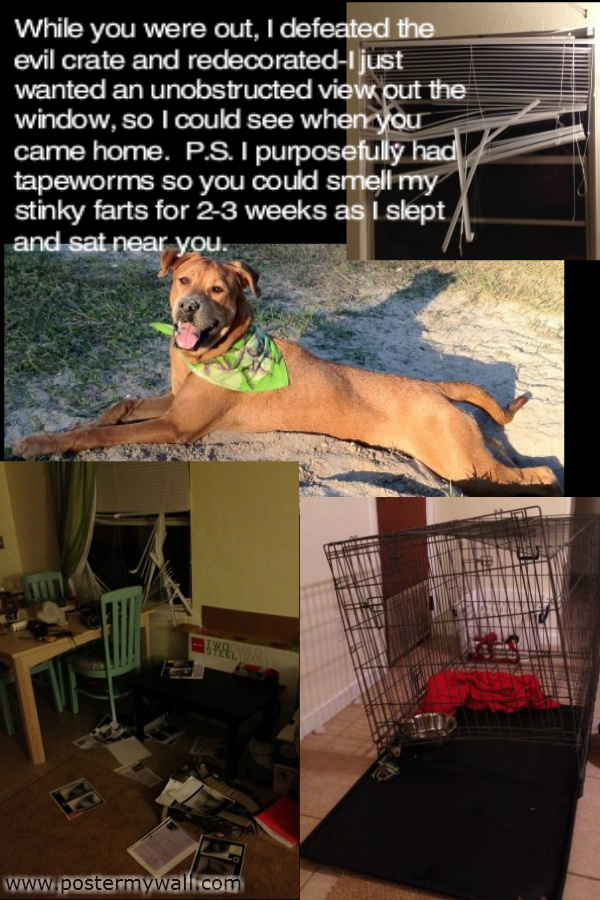 While you were out, I escaped and defeated the evil crate and redecorated the living room. I just wanted an unobstructed view out the window, so I could see when you came home. P.S. I purposefully had tapeworms so you would have to smell my stinky farts for 2-3 weeks as I slept and sat near you.
Meet Harrison! He is a Labrador mix a little over a year old and is available for adoption through Puppy Hill Farm Animal Rescue based in Melrose/Gainesville, FL. This incident happened about a week after he was saved from being put to sleep due to overcrowding at the local animal shelter in September 2012. He used to be very afraid of crates, but after some training he no longer escapes, is not as anxious, and doesn't knock down the curtains to see out the window. Now that the tapeworms are all gone, his foster mom doesn't have to smell his silent but very deadly flatulence anymore. Harrison currently lives (and plays) with a standard poodle and a cat, but also loves going to the dog park, giving kisses, and meeting new people.
Harrison goes to the Gainesville Petsmart on weekends for adoption through Puppy Hill Farm Animal Rescue.