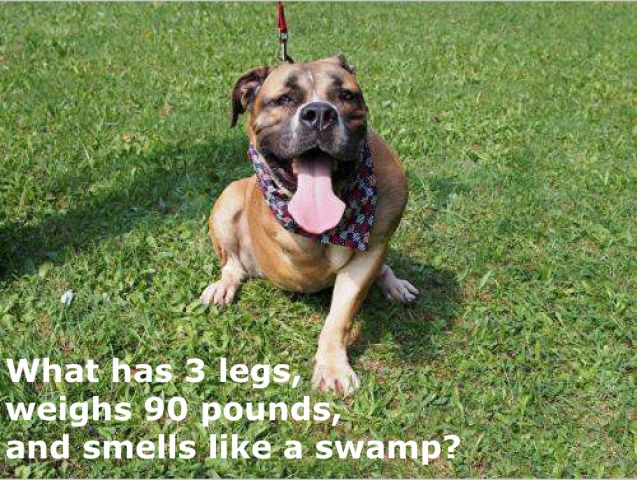 Lexie is a young mastiff/bulldog mix who is nearly 90lbs and can make grown men cry with her farts. One end is drool, the other is gas. The middle is usually wiggling with joy at the attention of any human. She is currently in eastern PA, and we adopt throughout the New England area. Lexie is with Red Hook Dog Rescue, a small NYC rescue that focuses on special-needs dogs.Lexie's favorite thing to do is roll on her back for bellyrubs… and then toot her contentment. Because what you really need when you're bending down close to rub her belly is a weapons-grade air biscuit launched into your face in thanks.
Lexie loves, loves all people — truly she has never met a stranger. She plays a little rough for small kids, so we'd rather see her in a home with 12 and up. She will chase small critters so cannot be in a home with cats or small dogs. How fast can a dog with three legs run, you might think? FAST ENOUGH. Oh, yes, about the three legs thing. Lexie is indeed a tripod. It does not bother her in the slightest. She is healthy, spayed, up to date on shots, is housetrained and has basic obedience training.
Lexie would like a big (65+) male dog as a buddy/playmate, though… so those of you with big naughty boxers that need more exercise so they'll stop eating mattresses and sheetrock out of boredom, consider Lexie!
She also has a full training scholarship so although she has basic obedience, her new owners would get free sessions with a good trainer local to them! We would LOVE to find Lexie a home in time for Christmas, either foster or adoptive.