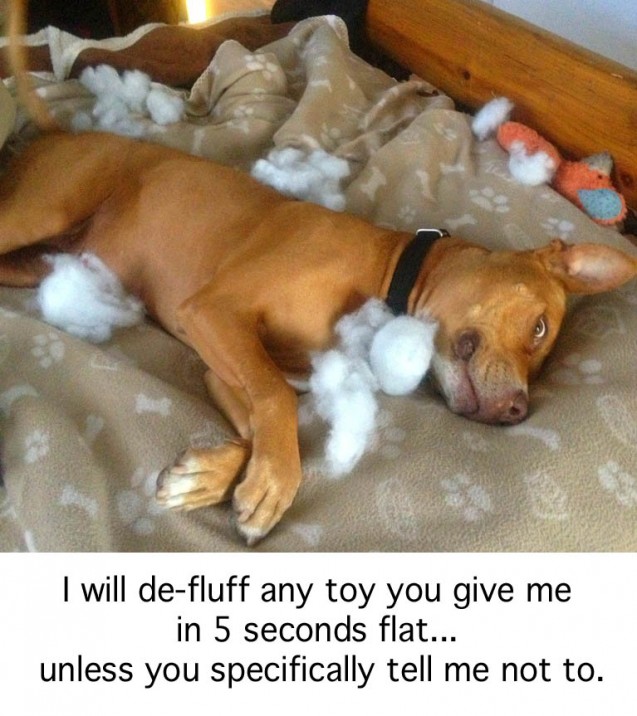 Missy de-fluffs any and all toys unless she's specifically told not to. Only "Bunny" has survived the stuffed animal massacre because Missy knows he is her special cuddle toy. I found this scene while I was doing yoga and heard happy dog grumbles and saw 4 paws sticking straight up in the air on the bed. Missy was rolling in the fluff! Silly girl!
Missy is a sweet, 2 year old petite Pit Bull mix from Los Angeles, CA. She's being adopted through the rescue group Pennies For Dogs. She's a big cuddle bug who loves kisses, lounging in the sun, and any and all food. She and her puppies were rescued from the South Central Los Angeles shelter. The puppies were adopted but Missy was left behind. In 3 months, she's gone from a total street dog to knowing sit, down, wait, stop, give me your paw, focus, stand, roll over, and down. She has recently mastered heel and is learning drop it and "enough" (re: barking). She is current on all her shots and is potty and crate trained.
Cats, squirrels, and sometimes other dogs are her kryptonite, although now that she's learned heel, it helps tons and we are working on her socialization. She improves every day! She still needs to be an only pet and would be best around older kids. If Missy's forever family can be confident leaders and reinforce her training as needed, she will bring them infinite joy, love, and cuddles in return!