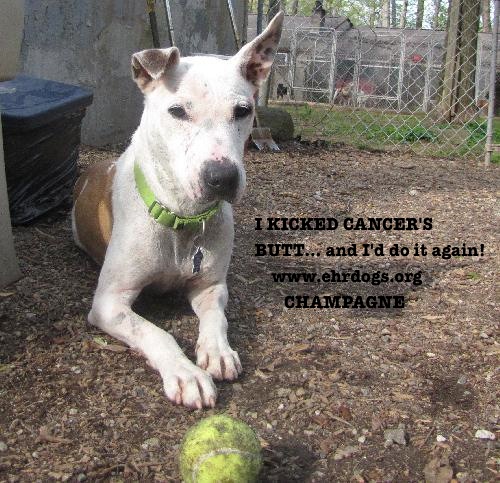 Can you give this cancer survivor a new leash on life? Here's her story in her own words.
Hi everyone……I'm Champagne. I'm about 7 years young and just the sweetest little girl.  I was given up because my family didn't have time to take care of me, but the nice folks at Eleventh Hour Rescue in New Jersey took me in and are taking care of me until I find my new furever home.
I was taken to the vet soon after coming to 11th Hour Rescue and I was diagnosed with mammary adenocarcinoma (breast cancer). The tumors were removed and my cancer is now in remission.  I'm feeling great and I'm totally ready to go home now!!  I'm house trained, know basic commands, and am just an all-around wonderful girl who loves meeting new people.  I'd like to find a family that will have me as their only pet.
While I'm staying at the kennel, a couple of my friends and I play with tennis balls which is my favorite thing to do.  Actually, sitting in your lap and getting hugged is my favorite thing, tennis balls come second!  I know I'm safe and loved here but I'd rather spend my nights watching TV with you or even doing something as simple as laying at your feet while you're on the computer.  I'm a simple girl…you love me, and I'll love you.
If you want me in your life but you're not ready to adopt yet, please consider fostering me.  Either way, I'll be forever grateful to you 🙂