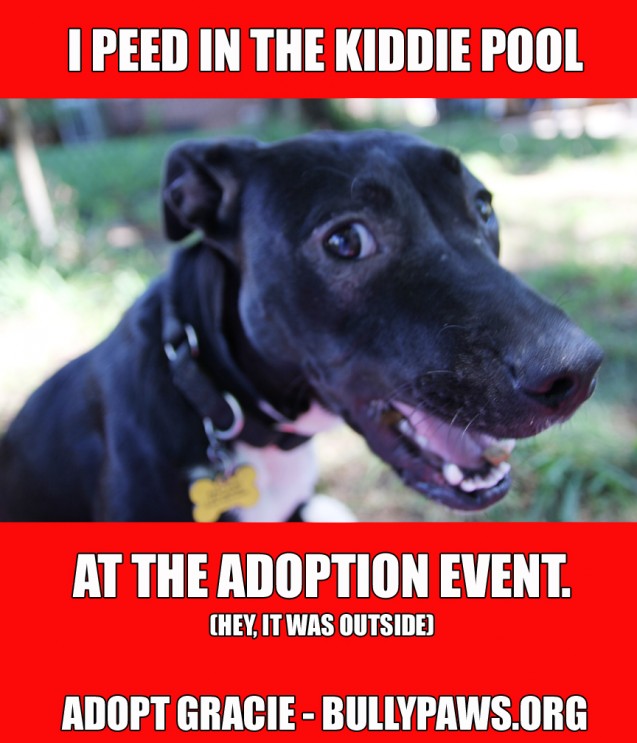 "I peed in the kiddie pool at the adoption event. (Hey, it was outside.)"
Gracie had a pretty rough start and was found as a small puppy in one of the shelters with which we work in Fredericksburg, VA. She's now with a foster family working for Bully Paws. She's a little timid with new people, but once you win her trust, a beautifully sweet little girl emerges. She listens very closely to the people she loves and desperately wants to please them. She's a very goofy girl who will fall over herself to beg for belly rubs and bounces around the yard. She loves hikes and will surprise you with her athleticism. She loves dog toys and if you keep them around, she plays with them and leaves shoes and other desirables alone. Once playtime is over, she is a great cuddle buddy. She is great with children who are mature enough to be patient with her and not tease her. Her favorite person at the moment is our 9 year-old daughter.
Despite her shyness around new people, she is great with her canine friends. She looks to the dogs in her foster home for social cues and is much more afraid without the companionship of other dogs. They're the true key to her heart. Because of this, Gracie would do best in a home where she has a dog companion.
Gracie knows basic commands, doesn't jump on people (unless they have a lap for her to snuggle on) and is working hard on her leash skills.
She is an absolute joy to have around. She makes me giggle all the time.