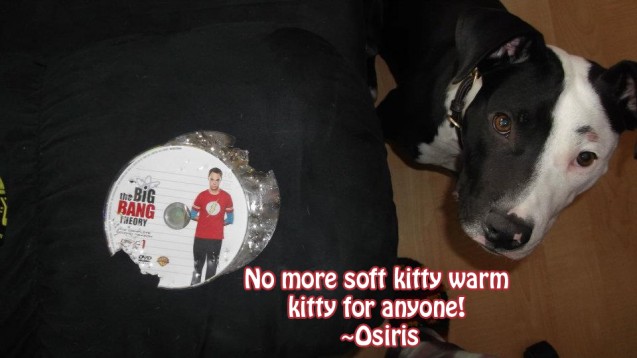 One of our readers, Bailey, sent me an email telling me that her lovely rescue pup, Osiris, had recently eaten her Big Bang Theory DVDs!!!
Here's what Bailey wrote:
"This is my rescue Osiris. I was cleaning the house the week we brought him home. The house was silent and of course that means no good so I went on a dog hunt. Lo and behold little Osiris was wedged behind the recliner chewing my Big Bang Theory DVD…… I was not impressed…
We adopted him from Adoptapaw Pet Haven in Saskatoon, SK, Canada. He is originally from Los Angeles where he came into the shelter as a stray. He was pulled, and transported North, to Saskatoon. We then drove from Airdrie, Alberta (7-hour one way) and adopted him on the spot…. "
Thank you Bailey for rescuing Osiris, you're awesome!