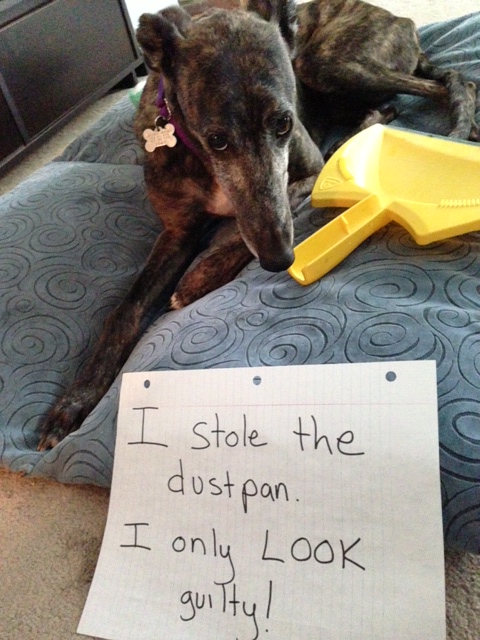 I stole the dustpan. I only LOOK guilty."
This is Party Girl. She is smart and extremely fast! The minute you turn your head she grabs something and runs away with it. In addition to the dustpan, she has stolen a loaf of bread, a box of leftovers, socks, tupperware, fish food, stuffed animals, pants, recycling, balls of yarn, fortune cookies, a bird feeder, a pizza box, and countless pillows. Any food she steals is usually washed down with a big drink from the toilet. She has the most sorry face in the world when she gets caught, but she is NEVER sorry! Her greyhound brother has been recording her antics on his Twitter feed.
Party Girl is a 7 year old retired greyhound and is available from Rescued Racers in Missouri. In addition to being smarter than all of the people in the house, she is very sweet and loving. She is content to snuggle on the couch with you…up until the point where she runs off with the pillows. She is quiet and takes her retirement quite seriously. Party is also kid friendly, cat safe, and quite petite for a greyhound.