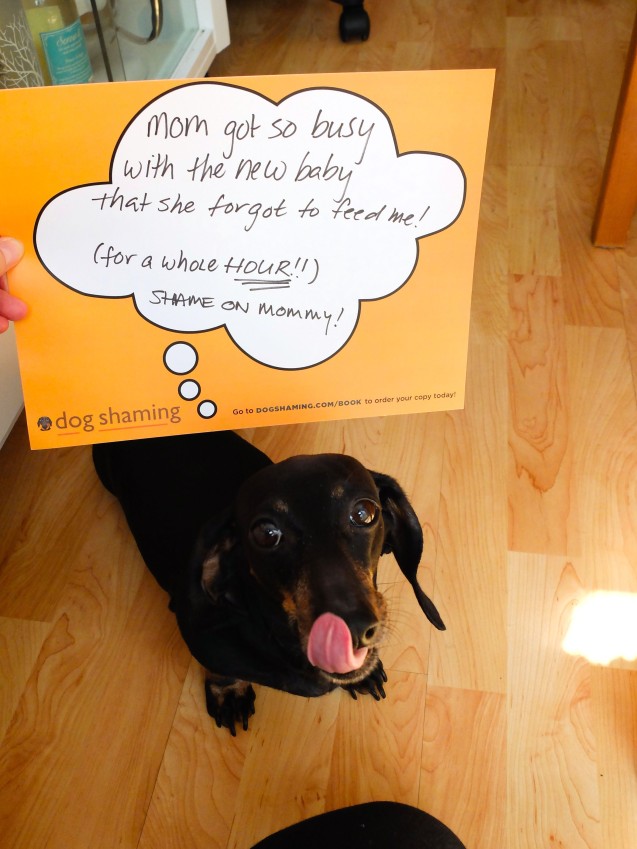 Mother's Day is right around the corner and we thought it would be fun to hold a Mutter's Day Contest! We're turning the tables on dog-moms for this contest! This time the dogs will be shaming their mommies!  Did you ever do anything to your pooch for which you feel the need to atone? Ever forget to feed your puppy because you were so busy with the baby? Accidentally step on Bingo's paw? Lose Rufus' annoying squeaky toy "on accident"? Time to confess!
Every week from now until Mother's Day, we'll be picking the best submissions and posting them on Friday!
The selected winners will receive signed copies of the Dog Shaming book, as well as some cool Dog Shaming swag! It's the perfect gift for the dog-loving mom in your life.
Here are the rules:
Submit a picture to our blog with a picture of your pooch with or without their "mommy", along with a sign describing your indiscretion (just like in the picture posted above).
The title of the picture MUST READ: Mutter's Day Contest! (If you don't do this, we won't see it!)
Make sure you use your current email address as we'll be emailing the winners
Follow us on Twitter and Facebook for even more chances to win! If you don't want to take any chances in winning the contest to get your hands on the book, feel free to order copy here.