What an amazing two years it has been! To thank you, we're bringing a fun interactive game! We're calling it SHAME SHOWDOWN!
You feelin' lucky, well, do ya, punk? Check out our game that pits two shameful dogshaming images against each other. You get to pick which animal is the most ashamed, or has the most to feel ashamed for. You'll wanna come back day after day!
The button is on the home page in the upper right hand side.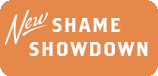 Also, don't forget to enter our amazing giveaway; it ends on Thursday, August 21st at 9am EST. You could win one of 5 grand prizes (books, bags, subscriptions, sweaters, calendars)!!!