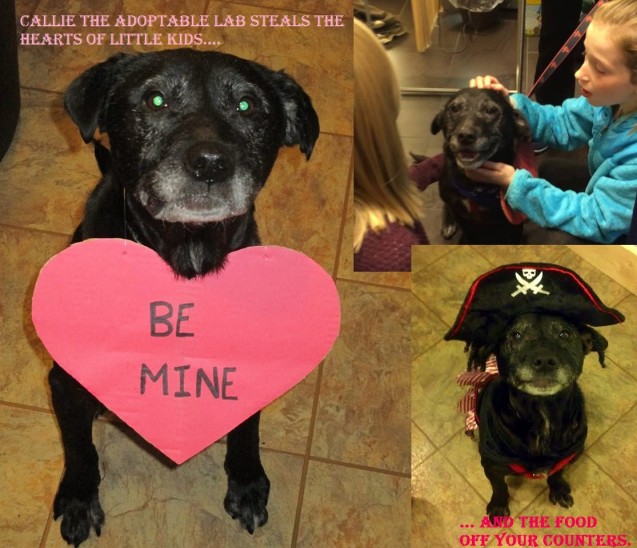 Callie the adoptable lab steals the hearts of little kids….
…and the food off your counters.
Callie came into Broken Tail Rescue based out of Worcester, MA over a year ago, with thick scars around her neck from being tied up outside. She had never been inside a house, didn't know how to walk on a leash, had skin and urinary tract infections, wore her teeth (probably from grubbing around in the dirt), etc… but was an INCREDIBLY sweet lady .
Nowadays, she loves going for hikes, hanging out in her crate, meeting new people and snuggling up with kids. She knows tons of tricks and also uses potty bells to let you know when she needs to go out. But MAYBE because of her past…. she can't let a free meal go by! Notorious counter-surfer Callie will steal your heart, and your food. =)
Callie drew the short end of the stick when it comes to stats for adoption. Black, older adult, lab/pit looks, thinks other pets might be snacks. But the truth is that she's ridiculously sweet and has a heart of gold, doesn't act like a senior at all, and doesn't make a fuss about coming near other animals. She's just a huge love!